Welcome to dhg Duplication, a division of dhg Productions, Inc. We pride ourselves on offering our clients great value/high quality, fast turnaround, and the guaranteed lowest price. Since 1987, we've gained a reputation throughout the Midwest as a company that can be counted on to provide high quality CD and DVD duplications a great price. We can handle any quantity of duplication in any format, dhg has the technology and the technicians to get your job done right and done fast! Call today to speak with one of our friendly customer service specialists.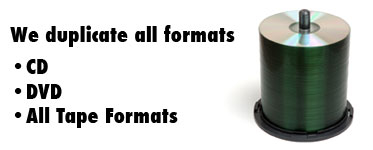 This is a special thanks to you and everyone that worked on our CD project last week. The CD's looked great and you got them to us in the very short time frame you were given. Huge thanks to all of you at dhg Duplication.
Paula – Des Moines, IA
"For Years we were mailing VHS tapes to our customers , then dhg Duplication showed us a DVD mailer could be more cost effective. They came up with a unique pocket mailer that looks great and the savings in our mailing costs have been amazing! Needless to say, now I have dhg Duplication evaluate all of our duplication jobs."
Mike– Ida Groove, IA